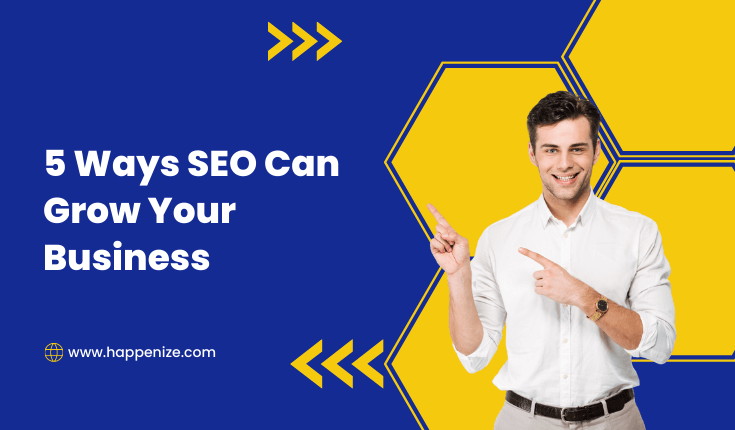 Today, every business is vying for the top spot in the search results. While the digital world has opened up several opportunities for everyone, competition has also heightened to a level like never before. It is therefore vital for businesses to keep this factor in mind when looking to scale up, create wider brand awareness, increase their customer base, and earn more revenue.
In today's digitally dynamic business scenario, it is almost impossible to reach the top without having a proper marketing strategy in place and implementing the right steps. And one proven way of achieving all the above-mentioned objectives is Search Engine Optimization (SEO), a significant part of digital marketing that optimizes your web pages on the basis of targeted keywords so that you get increased traffic on your website and enjoy a higher ROI.
Here are the top 5 ways by which SEO can help you grow your business
Helps you reach a wider audience
Most marketing campaigns are designed to target specific demographics of the audience either based on their spending pattern or their preferences. But SEO reaches and targets just about anyone who has an interest in your business, irrespective of which stage of the buying funnel they are in. This allows you to reach even those customers who are only thinking of doing business with you and convert them into potential clients with dedicated efforts. You can start by creating a list of keywords you wish to rank, and then expand them by using keyword tools. You can further refine your strategy by identifying keywords and backlinks being used by your competitors and developing a strategy based on that.
Gives an advantage over your competitors
The websites that appear on the first page of Google search receive 90 percent more traffic. So, you can't afford to not be there on the first page, especially if your competitors are there too. These days, every business is using some form of SEO marketing to stay ahead, and if you wish to stay ahead of your competitors, you need it too. Identify what your peers are doing and get to know their strengths and weaknesses and then devise a strategy for yourself. Make sure your site is mobile-friendly, loads faster, provides easy navigation, has top-quality content, is optimized according to your business needs, and provides a memorable user experience. All these factors play an important role in increasing user engagement and conversions.
SEO for local searches gains 80 percent more business
More and more users are now searching for local services. Queries like 'Best painter near me' are becoming increasingly business-driven and such searches, when optimized well, receive 80 percent more business. You can imagine the impact this would have on reaching your target market and boosting sales. To make the most out of this, ensure you provide the correct details like name, address, and phone number. Also, enrich your website with content that answers the most common queries and provides actionable solutions. When people type a question in the search bar, your website should show solutions to those queries as this is one of the best ways of attracting more traffic. Using localized keywords also works well as a conversion strategy.
Creates user-friendly websites
The user experience has become the center of all things these days. Google's algorithms keep changing with time, and currently, the more user-friendly a website is, the higher it has the chance of getting a good rank in the search results. SEO optimization helps in creating more user-friendly websites. It is all about how quickly your website loads, how easy it is to navigate and get the desired information, and how mobile-friendly it is. All these factors collectively decrease the bounce rate of visitors. The longer the users stay on your website, the more likely they are to do business with you.
Increases conversion rate
One of the main aspects of SEO is providing the right kind of keywords in the content that will direct the right customers to the website. It must be noted that using long-tail keywords is an effective technique to drive more traffic. This means using keywords that are more specific to the service or products you provide so that the users who visit your website are already in the final stage of the buying funnel. For example, using 'car servicing' as a keyword is a short tail usage. It is too broad and will never fetch you targeted customers. Instead, using keywords like 'car washing services in New York' is a long-tail keyword that will bring customers specifically looking for this service. Using such SEO techniques will increase the conversion rate.
SEO is a strong tool to make your website powered to fight the digital competition and enjoy high rankings on the search engines. SEO-optimized websites can propel your business in the desired direction and create a unique brand identity that you crave.