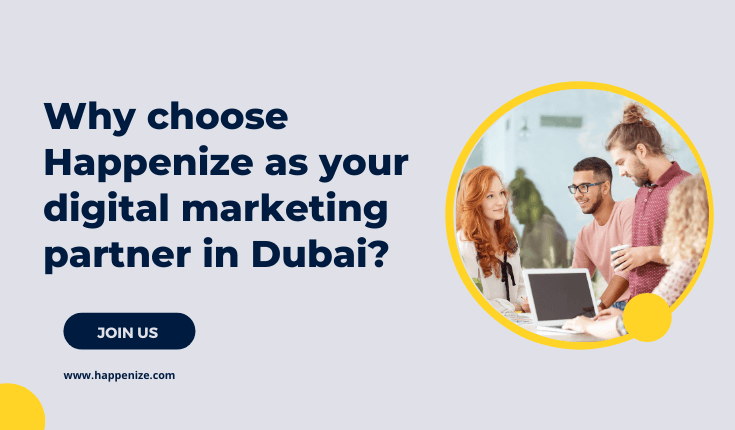 You may have tried some methods to target the right audience for your business, however, in most cases, the problem lies in how we target our audience using the latest digital marketing tools. Yes, most companies have ditched conventional marketing tactics and do go for digital marketing today.
This latest boom in the marketing methodology and new digital marketing tactics have given us marketers access to people on their phones, in front of them where we are hard to ignore. Something that traditional marketing like banners, brochures, and hoardings are unable to provide in terms of their impact in getting a clients' attention.
Happenize – The leading digital marketing agency in Dubai
The market in the United Arab Emirates, particularly Dubai, is saturated with a plethora of digital marketing companies here. Start-ups come and start-ups go, but there are few that understand the niche of reaching out to people (your audience) supported by the right technical team to execute the strategy prescribed. Wondering how to find the best digital marketing agency in Dubai? Let's tell you how.
One of the main reasons the brand name Happenize was chosen was to emphasize the fact that we actually make things "happen" for your business. Our techniques and strategies are ROI-centric and focused on healthy business equations. We don't work to serve you; in fact, we work to consult you as your partners. With multiple years of experience and a team of incredibly talented and highly professional digital strategists, account managers, designers, and paid ad specialists among other digital marketing experts, we ensure a herculean boost to your business.
As Jordon Belfort said, no company will partner with another until three elements are taken care of; firstly, the quality of service, secondly the quality of the communicator and communication from the company, and thirdly the backing and the execution team. So rightly these are the factors you must look for in finding the right digital marketing partner for yourself too.
Why is Happenize the best choice for your business?
Happenize is a renowned name in the digital marketing arena. Our recent growth and expansion across the Middle East are a testament to the fact of our growth in digital marketing and now digital transformation.
Professional customer service:
The customer support system at Happenize follows a tried and tested process to ensure things are executed accurately and reported to clients on time. Though we work 9am to 5pm, our consultants are flexibily available to address your queries and strategize the marketing plan with you.
Result-oriented digital marketing services:
There are companies that offer digital marketing as per what you require, at Happenize, though we have all services available, we recommend you the services that will work for your brand. You don't go to the doctor and tell him the medicine you need. Likewise, we are digital doctors who analyse the health of your business marketing efforts and advice you. Be it SEO or SMM, or any other services related to technology; our team leaves no stones unturned in bringing favourable results to the table. If you are unsure which service you should opt for, the subject matter experts will offer you adequate guidance and help you make a wise and informed decision.
One-stop solution for all your digital marketing needs:
When with Happenize, you will get all your digital marketing-related requirements sorted. It serves as a one-stop solution where you can get all your business needs catered to. Want your business website optimised as per the search engine algorithms? Happenize will do it! Want to run Google Ads? Let Happenize do it for you! Want to get your social media profiles managed? Again, Happenize will be at your disposal!
Below given are the various marketing services offered by Happenize:
PPC
SEO
SMO
Mobile marketing
Marketing analytics
Content marketing
Email marketing
Affiliate marketing
Websites and Ecommerce
Mobile apps
Team of passionate digital marketers:
Happenize has a team of professional and expert digital marketers. They are incredibly passionate about their work in digital marketing. Helping brands grow and companies prosper is what we strive for and this interest keeps us working with utmost patience and concentration.
Affordability of price
At the rate at which we are aiming to grow, we would rate our work in tier 1 digital marketing agencies in Dubai. However, the good news is that we don't cost your pocket the same. We believe in making marketing efforts feasible and reasonable. We offer discounts for SMEs, however, the low cost is not an indication of compromised service quality.
You probably have several questions in your mind regarding digital marketing and also about us, we reckon, you don't buy from us if you don't wish to now but do speak to our consultants to do a quick analysis of your marketing health and techniques. We don't charge for that!